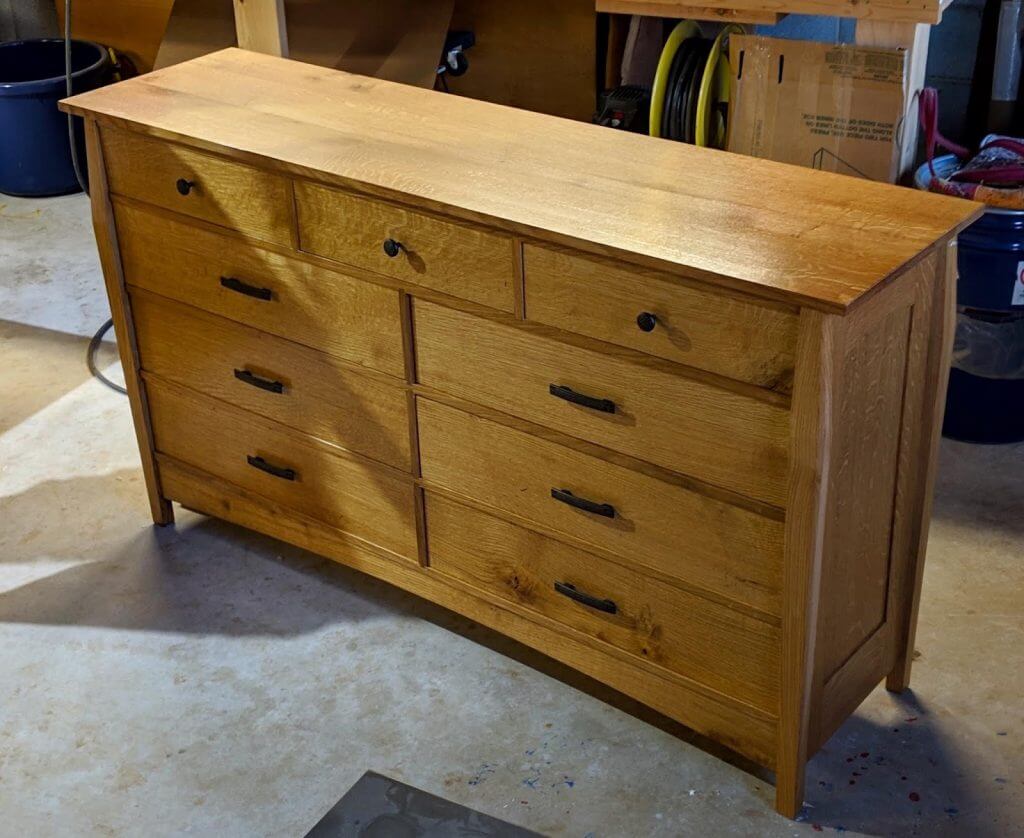 This piece follows the lines of standard Arts and Crafts bedroom furniture, double tapered legs, a panel design with arched top rails and an arched lower stretcher (similar design elements to the night stands). 
It deviates in a few areas.  First it is a low/wide style of dresser and it also has a Drawer Web (Drawer Divider and Drawer Runners) above the top set of drawers.  Traditional pieces were the standard tall dresser and they often omitted a top Drawer Divider.  Over time the tops often bowed and the addition of a top support web will combat this. wanted a bookcase and had an aesthetic that was very different than mine. Step one was to come up with a design that was suitable and for this I used simple marquetry to add interest and variety. 90% of what I make is Mission Style or similar so this was a bit of a departure.
Drawers
Try as you might, the drawer openings will not be perfectly square or all the same size. Your drawer openings are intended to be square, but in reality they are more of a trapezoid of sorts but the top and bottom are likely not parallel (in an absolute sense). When I say "not square" don't mean drastic angles, but your drawer and the opening will be off by a fraction of a degree in each direction. You want to minimize that fraction, but you non-the-less have to account for it. There are only two options then: Drawer runners with a facia front (like kitchen cabinets) or fitted drawers. For furniture I only recommend fitted drawers.
Mill your drawer face stock to the same thickness for all the drawers (it will make cutting the joints uniform and easier). I rough cut them all to at least 1″ longer in every direction. Once done, lay the faces out and arrange them for grain and color. When happy, number them and put an up arrow on the outside of each drawer part, mark a line on the bottom inside where the dado for the bottom will generally go.
Measure your drawer banks in multiple locations and determine the tallest measurement. Some of my 7″ drawers were 7 1/16″ (due to a slight bow of a Drawer web), some were 6 21/32″. Though you shoot for 7″, laying out router cut lines and positioning jigs will introduce some error. Not enough to "see" but enough that you have to take it into consideration when making mating parts. Once you have a "maximum" for a given drawer bank, rip them to that width plus 1/16 (so the blanks are all 1/16 taller than your widest measurement). Once ripped, use the miter saw to square the edge that will be against the panel side (you can pick either side for the top center drawer). I start with the panel side as it is the "most square" of the joints.
Offer the drawer face to the opening it is intended for and note how much each end extends too high. Ideally the overage is the same, but it usually varies. Plane the top (or bottom at this point as you are doing full passes) until the height of the face is reduced enough for one corner to slip into the opening. Press the bottom firmly to the drawer web. Look at the top face and see where the fit falls off (middle, just after the corner that fits etc) and look at the bottom face to see if it is in contact all the way across. Typically the bottom of the drawer face and the drawer web are straight and you can confine your tuning to the top. I note where the top is falling out of fit and then from from that point to the tall corner with a plane – then retest. Continue this until each end fits with resistance.